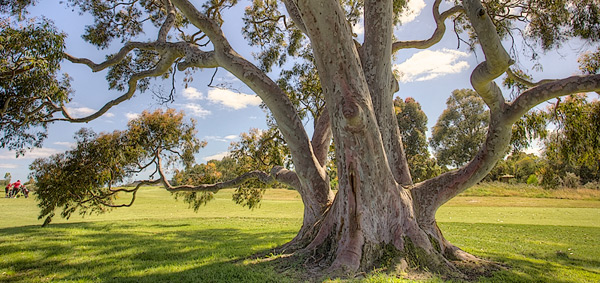 In amongst the two day shoot for the 2011 Golf course tree calendar, Stephen Frank from Tree Logic and I came across this Smooth Barked Apple at the Spring Valley Golf Club in Clayton South.
It is near the 15th Green and has been in its current location far longer than the golf course itself. The Smooth-barked Apple (Angophora costata) is one image I am working on for reproduction as a panoramic format framed image. These are produced from 3 sequential images each with a 2 stops bracket exposure so as to create an HDR image with a wide exposure range to work with. Subsequent tone mapping allows an image to be produced that shows every detail in optimal tone. Fine tuning this image for digital reproduction on cotton rag paper is the next step of the process and refinement could continue for a few weeks. Order one now online or come down to the market stall,  St Kilda Esplanade Sunday to have a look at the result.
You can order the calendar direct online from Tree Logic now but it is a very limited print run.
Melbourne's sand-belt golf courses provide a green oasis within what is predominately a busy urban environment. They are designed to be aesthetically pleasing but the primary function is to provide the ultimate sporting challenge. As the turf weaves its complex path of bumps and obstacles, the use of trees define space, provide a sense of nature, privacy and comfort. And regardless of how well a golfer is hitting the ball, trees contribute to a sense of well-being and an ultimate enjoyment for the game.
Stephen Frank on Golf course trees.